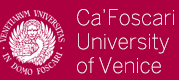 The "Ca' Foscari" University of Venice is an Italian university based in Venice, on the Grand Canal, between the Rialto and San Marco.
Founded on August 6, 1868 as the "Scuola Superiore di Commercio" (Higher School of Commerce), Ca' Foscari was the first Italian institution for higher studies in commerce and economics. The original main office is still located in the great Gothic palace "volta di canal" (on the bend of the Grand Canal), in the heart of Venice.
Its Venetian name of Ca' Foscari means "house (palace) Foscari" (the word Ca' comes from the Venetian dialect meaning "house" equivalent to the word Casa in Italian). It had belonged to Francesco Foscari (1373-1457), the 65th Doge of Venice.
This palace was the seat of the Royal School of Commerce in Venice, whose idea was born in 1866, after the annexation of Veneto to Italy, notably by Luigi Luzzatti (1841, a Venetian Jew). It was the first institute of its kind, with the initial aim of perfecting the skills of merchants, but also as a Teacher Training College intended to prepare teachers of commercial sciences for secondary schools.
In the 1960s, this school was transformed into a generalist university.
Ca 'Foscari of Venice is the first business school in Italy and the second in Europe, a university where more than 30 languages are taught. Like the city that hosts it, it is a crossroads of cultures, fields of research, ideas and creativity. A modern university that maintains itself over time by carrying out, within its eight advanced departments, innovative research projects and study programmes to guarantee an excellent educational experience. Thanks to its five interdepartmental schools, Ca' Foscari has developed transversal and integrated educational approaches. In this way, those who study in Venice can acquire a wide range of skills and most articulated: economy meets cultural heritage, languages meets economy, restoration meets science, to name but a few examples.
The University offers courses at all levels, both in Italian and English: 16 bachelor's degree programs, 29 master's degree programs and 34 professional master's degree programs in addition to the Doctorate studies at its doctoral school. This is also supported by the new School for International Education, which organizes courses for credit and extracurricular activities for Italian and international students, as well as for professionals interested in courses and lessons conducted by both Italian and foreign instructors.
Ca' Foscari University also offers a wide range of international programs, with 3 bachelor's degrees, 12 master's degrees, 14 professional master's programs and 5 PhDs.
"To study at Ca' Foscari are not only classrooms and libraries at your disposal. We're not only here to receive an excellent education. Ca' Foscari is a unique educational experience, in a context like no other place where art and culture meet around openness and international exchange. It is the place where all foreign students come together to share and study together. Quite simply, Venice. Welcome to Ca 'Foscari, welcome to Venice.
[:]