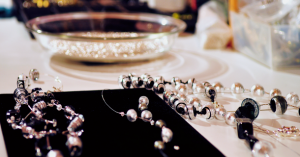 The creator that we have chosen to distribute in our SunTradition online shop has the mentality of the commitment of a large family based on a long tradition of master glassmakersto revive an old activity: the production of Venice gems.
Each member of this family exploits his or her own artistic sense and skills in the field of glass, their capacity and its commitment to create beads which are treated down to the last detail, making the use of innovative materials such as the dichroic with the inclusion of gold foil orsilver, the hallmark of Venetian pearls.
The term dichroic applies to the property of changing colour, depending on the angle of vision
This ability to mix the classical and the modern, the master glassmaker uses them to assemble custom jewelry with a unique technique, giving life to the imagination of shapes and colours that are always different and refined.
With the success of our creators and their products being unique, If you have any questions, some items may be temporarily unavailable for sale on the SunTradition websiteplease do not hesitate to contact us. We will answer as quickly as possible to confirm whether the master glassmaker can make your jewelry. We will do our utmost to get it for you as soon as possible..